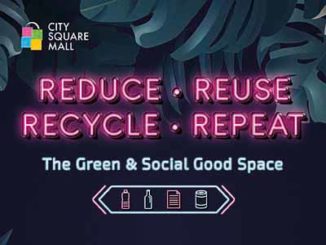 Do good, go green and play your part in loving the earth by dropping off your e-waste, recyclables and donations at The Green & Social Good Space @ B4 Travelator Lobby!
ALBA E-Waste 3 in 1 Bin
- Batteries
- Light bulbs
- ICT equipment e.g. power banks, laptops, mobile phones, desktop monitors (device must be able to fit through a 500m x 250mm slot)
The Food Bank Singapore
All types of non-perishable food items that are unopened, unused and with at least 4 weeks of shelf life.
Greensquare Textile Recycling Bin
Pack your items into bags and tie it properly to prevent contamination to the textile recyclables.
- Clothes
- wearable paired shoes
- household linen
- Accessories