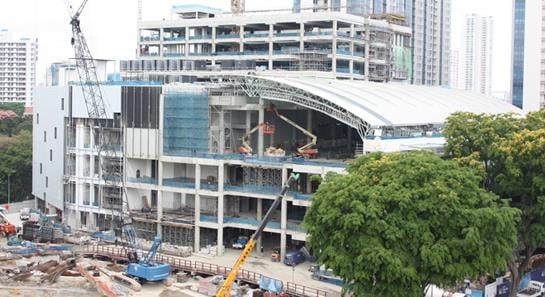 During its inception, City Square Mall was conceptualised with environmental sustainability in mind, from the construction process to the building features.
Silt water was treated and recycled during construction, saving water enough to fill 8 Olympic-sized pools
50 truckloads of sand were saved by using an alternative eco-friendly construction material
Using innovative construction methods which saved enough steel to rival the weight of 365 saloon cars
Annual electircity savings of 12 million kWh per year, equivalent to the average electricity consumption of more than 3,100 units of 4-room HDB flats
Reduction in CO2 emission of over 6,600 tonnes per year, equivalent to the amount of CO2 emission absorbed by 154,000 trees
City Square Mall has achieved the ISO 9001, ISO 14001, ISO45001, ISO 50001 and SS 577 certifications.
Green Features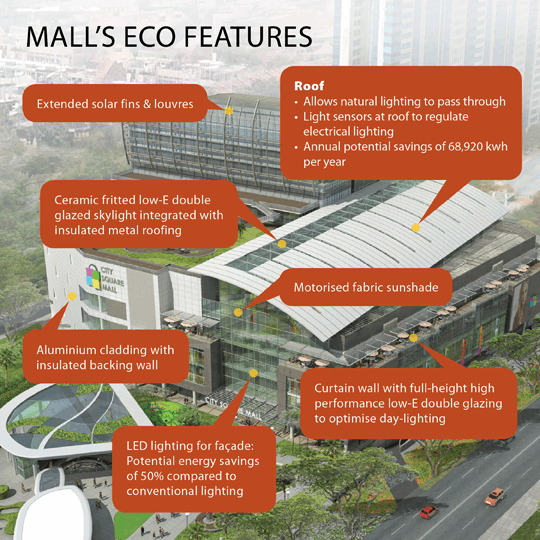 Our green features include:
Designated parking spaces for hybrid & electric cars
Driveway sensors to adjust the lighting of B4 carpark, saving about 50,000kWh of electricity a year
Cosmetic cover recycling bins available at L2, near the Customer Service Counter
E-waste and textile recycling bins available at The Green and Social Good Space at B4 Travellator Lobby
Auto-lighting and slow-down features on the escalators and travellators
Sensors to ensure that the landscaped greenery is not watered on rainy days
UV technology in kitchen exhaust system to reduce odours
High-efficiency air-conditioners that use less electricity, preventing the emission of more than 4,000 tonnes of carbon dioxide annually
Recycling of condensate water from the air-conditioning system, saving water enough to fill 2 Olympic-sized pools yearly
Variable Air Volume technology in air-conditioners helps to moderate the mall's temperature, saving energy while shopping at ease
More cooling coils are used in the air-conditioning system to treat air and control indoor humidity better.
City Green
City Green, the 49,000 square feet park is like a green carpet laid out in front of the mall to welcome visitors. Filled with numerous wonderful surprises, City Green is designed to provide a learning experience about ecology and the natural environment.