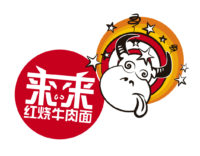 Lai Lai Taiwan Casual Dining
#03-39/40

6509 5626

Lai Lai Taiwan Casual Dining Facebook

Accepts CDL Gift Voucher
Simplicity is Bliss—that's Lai Lai !
Specializing in Taiwanese delicacies, Lai Lai serves the famous beef noodle (a MUST-TRY signature dish in Taipei) which is originated from Lai Lai Sheraton Taipei.
The secret of the beef noodle is the broth, with excellent chunks of braised beef and springy noodles served piping hot.
Other yummy offering is the Taiwan Vermicelli which is air-flown from Taiwan.
Served with selected toppings, it will definitely give an exceptionally taste to your palate.
The restaurant also recommend other dishes such as their popular braised pork rice, Cong Jua Bing and many other Taiwanese foods.