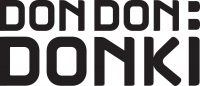 Don Don Donki Food Court
#B2-05/18

6634 1711
Hokkaido Ramen Santouka
Founded in 1988 in Asahikawa, Hokkaido, Ramen Santouka is well-known to be delicious to the very last drop. Its seasoned pork broth is boiled for more than 17 hours and never re-boiled to maintain and preserve the subtle sweetness and fragrance that it is famed for. The Santouka brand guarantees the ultimate balance between both taste and aroma; the embodiment of the perfect Japanese Ramen.
Tokyo Heijoen Niku Syokudo
Curators of fine beef since 1970, Yakiniku Heijoen procures only top-quality Wagyu beef from all over Japan. Focused and committed to bringing the taste of Japanese beef to Singapore, taste the wonders of tradition in its signature beef bowl, grilled steak and Sukiyaki rice bowl.
Kaisen Bonta
Crispy on the outside, soft and tender on the inside, the original recipe grilled Unagi (Eel) earns its place as the signature dish of Bonta Bonta. Besides excellent quality Unagi, Bonta Bonta also recommends its specialty seafood bowl. Using one of the best rice in Japan, nothing is more enjoyable or appetizing than a bowl of freshly prepared Japanese seafood on a bed of fluffy, succulent rice.
Ice No-ie Hokkaido
Connoisseurs of delicious handmade ice cream with the best Japanese ingredients and as little additives as possible, Ice No-ie imports high quality Japanese ingredients to bake and deliver freshly made sweets to their stores every day. Apart from their signature ice cream, try their delightful assortment of cream puffs and gelatos with ever-changing seasonal flavours.